Eventos y Noticias
ESTUDIOS AFRICANOS EN LA RED
---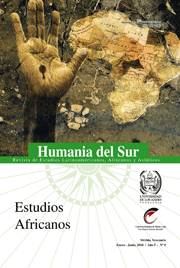 Nos complace anunciar que el número correspondiente a los meses Enero-Junio 2010 de Humania del Sur dedicado a los Estudios Africanos. Año 5, Nº 8, ya está en la red. El Centro de Estudios de África y Asia "José Manuel Briceño Monzillo" lo invita a recorrer sus páginas en el portal de saberula:
http://www.saber.ula.ve/humaniadelsur/





TABLA DE CONTENIDO






Editorial





Debate




¿Quo Vadis, África? Recuerdos históricos de un porvenir truncado.Quo vadis, Africa? Historical memories of a truncated future.Lee, Franz J. T.


África allende la oscuridad heredada del imaginario occidental. Una toma de conciencia. Africa beyond the darkness inherited Western imaginary finding awareness. Mata, María Gabriela.


El ritmo sigue: Desilusión funcional postcolonial en Kenya. The Beat Goes On: Performing Postcolonial Disillusionment in Kenya. Mutonya wa, Maina.


Frantz Fanon y la vía dolorosa del desarrollo de la nación argelina. Frantz Fanon and the painful path of development of the Algerian nation. Schmidt, Axel.


Subiendo al Sur: África y América Latina en las nuevas dinámicas de la cooperación Sur-Sur. Africa and Latin America in the new dynamics of South-South cooperation. Delgado, Jerónimo y Barrera Castro, Alejandro


Caleidoscopio
Las relaciones diplomáticas Venezuela-África (1969-1979). A record of Venezuela-Africa Diplomatic Relations (1969-1979). Molina Medina, Norbert


Notas sobre las relaciones entre fe y razón en Avicena, Al Ghazali y Averroes. Notes on the relationship between faith and reason in Avicenna, Al Ghazali and Averroës. Vivanco S., Luis I


Buscando el pasado de una ciudad en su futuro, Kuala Lumpur a 40 años de 1969. Looking for a city's past in its future: Kuala Lumpur 40 years ahead of 1969. Martínez, Rafael


El movimiento nacionalista indio y el papel de las élites en la pérdida de los ideales igualitarios. The foresaking of egalitarian ideals in the nationalist Indian movement: the role of the elites. Val Cubero, Alejandra


Diálogos
Hilda Varela. África Subsahariana en positivo.


Hilda Varela. Sub-Saharan Africa: A possitive view. Lucena Molero, Hernán



Reseñas
José Arturo Saavedra C. (Comp.). África: Perspectivas sobre su cultura e historia. Reseñado por: Duarte Peña, Juan José y Ramírez M.,Bernys K.


Gregory Zambrano. El horizonte de las palabras: la literatura hispanoamericana en perspectiva japonesa (Conversaciones con académicos y traductores). Reseñado por: Barrios, Roselín



Documentos
NEPAD Declares may Africa month.
- Fecha de publicaci├│n: 16 Jul 2010
- Publicado por: CEAA