Eventos y Noticias
Geopolítica del Sur en la Red
---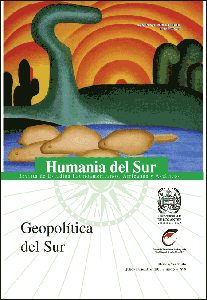 Nos complace anunciar que el número correspondiente a los meses Julio-diciembre 2010 de Humania del Sur dedicado a la Geopolítica del Sur. Año 5, Nº 9, ya está en la red. El Centro de Estudios de África y Asia "José Manuel Briceño Monzillo" lo invita a recorrer sus páginas en el portal de saberula:
http://www.saber.ula.ve/humaniadelsur/
TABLA DE CONTENIDO

Editorial
Debate


Desafíos para Suramérica. Challenges for South America. Mata Mollejas, Luís




China y los países africanos, ¿un modelo de relación a seguir? China and the african countries: a model of international relations? Navarro García, Abraham.


IBSA: ¿modelo de integración para el sur? IBSA: a model of integration for the south? Cejas Armas, Ismael


Medio Oriente: ¿Se redimensiona su importancia geoestratégica en el marco de las relaciones internacionales contemporáneas? Is the middle east redimensioning its geostrategic importance in the context of contemporary international relations? Brooks Beltrán, Idalmis


Significado de las violencias locales en un mundo globalizado. The meaning of local violence in a globalized world. Alzate Zuluaga, Mary Luz.


Caleidoscopio


El rito de San Juan Bautista en Chuao: sincretismo, mística y estética. The San Juan Bautista rite in Chuao: syncretism, mysticism and aesthetics. Campos, Marialejandra.


África en Miguel Acosta Saignes. Africa According to Miguel Acosta Saignes. Lucena Molero, Hernán


Evolución y estado actual de la conformación de los matrimonios en Casablanca (Marruecos): aspectos socioeducativos. The evolution and current state of arranged marriages in Casablanca (Morocco): social and educational aspects. Llorent Bedmar, Vicente


Una aproximación al arte de Nilima Sheikh. An approach to the art of Nilima Sheikh. Villa, María Beatriz



Diálogos


Kaldone G. Nweihed. La sociedad internacional nunca estuvo ni podrá estar sujeta a una sola línea. Kaldone G. Nweihed. The international society never was, and cannot be, subordinated to only one political line. Lucena Molero, Hernán



Reseñas


Lucena Molero, Hernán (Comp.). Simón Bolívar y Mahatma Gandhi: paradigmas liberadores. Reseñado por: García Sánchez, Roger A.



Documentos


Tratado constitutivo de la Unión de Naciones Suramericanas.


- Fecha de publicaci├│n: 21 Jan 2011
- Publicado por: CEAA